Biography 2008
MARLA VOLOVNA
Marla Volovna's curriculum vitae is stunning. She was educated at the best schools in the United States and Europe, enjoyed a ten-year singing career in Europe, as well as thirteen years of experience teaching opera studio and acting for singers, directing opera, teaching voice and a wide range of related courses at the University level. She is also an opera and musical theater director.


Through her extensive experience on the operatic stage in Europe, she developed a method for combining acting technique with vocal performance. This method coordinates physical movement with sound production to achieve a greater range of dramatic expression. The goal of uniting the art of opera and drama motivated her to investigate many related areas. In developing this methodology, she studied with some of the finest teachers in the world in language diction, mime, acting technique and voice. Her methods work for all Western vocal techniques and music styles, from opera to punk rock.


During her operatic career in Europe, she performed leading mezzo – soprano roles in opera houses in France and at the Radio in Milan and Naples. As an American competing in the European market with native speakers, it was absolutely essential to develop impeccable diction. She lived in Europe fifteen years and speaks Italian, German and French fluently and has taught these languages in diction courses for the past twelve years.


Marla feels that the success of her vocal studio is the fruit of her own life-long quest for a superior vocal technique, which makes it possible for her to build voices, correct vocal defects, and produce first class singers. Her students have won 1st and 2nd prizes in the Metropolitan Opera Competition for the Western Region. Her techniques have also produced several cash prize winners and many district finalists in that competition. Her students are now performing and teaching throughout the United States. Because she came to opera directing after an operatic career she understands the challenges of the singing actor and knows how to bring forth the best performance from the singers both vocally and dramatically.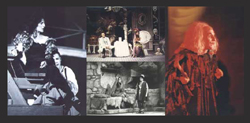 BEGINNINGS......"When I was three years old, my family was going to the movie of Aida with Sophia Loren playing the lead. Feeling I was too young, they tried to leave me at home. I fought to go and finally they relented. I remember to this day as if it was yesterday, standing mesmerized through the entire movie/opera, and as my mother handed me a candy bar, it fell out of my hand down the aisle. It did not matter to me because I was filled by the sound and beauty of the music. It was then that I knew that I wanted to become a singer. And on my birthdays from the age of four, I always asked, "Can I go to the opera?" And at a very early age, I was taken to the Met in NYC." ~~Marla
Currently Artist-in-Residence, opera director, and vocal specialist for Apollo Arts, her responsibilities include training the singers both dramatically and vocally, performing regularly in recitals and directing operas and scenes for the company. She also teaches master classes and workshops in California and Europe and maintain a strong singing career as recitalist. She recently returned from Shanghai, China where she gave master classes at the Opera and Conservatory in vocal techniques and acting for opera singers.
--fini--