This headdress was created by hand
for a "Guedra", directed by Katarina Burda, which was part of the "Donít Let My People Die" Benefit, November 10, 2005 at the Brava Theatre in SF. Traditionally speaking the Guedra of the Tuareg Tribe of North Africa, is a blessing ceremony. The chanting is in Arabic.

Many recycled materials went into this piece, including gifted 'baubles' used to adorn the brown wool braids.

For additional images of a few of the costumes I have made over the years, etc., see:
Portraits of Maureen &.... (currently Flickr is holding hundreds of images hostage!)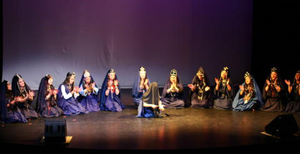 Maureen is the third from the right.