Materials: Anything and everything, whatever works.

In 2005, thanks to David Best, considered one of the founding fathers of the art car movement in America and a mentor, I learned some of the basics in making an art car. Underneath the 'tentacles' on the back end of my truck, is a huge dent. Now two years old and weathered, the beading has not held up. Knowing what I know now, I would have had that section clear coated!

The image below tentacles, features some of the beading I did as part of the crew working on Gregory Fleeman's Jeep Wrangler "Electrolux" designed by David Best and Gregory Fleeman.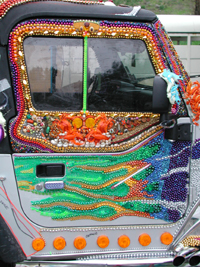 Possible Bio & Health Hazards: Greatest health risk to working on art cars can be from the prolonged inhalation of fumes or of skin absorption from silicone caulking, other glues, spray paints, mineral spirits, etc. Exercise caution, wear gloves or rub in hand sealants, be well ventilated and dispose of all used materials with Green in mind, taking all such empty cans, used rags etc, to the toxic recycle areas of your local dump. This helps keep this nasty stuff out of the water shed. Also for those of us who have used computer keyboards for over 20 years, be wary of repetitive motion injuries, such as your hands going numb. If this happens, rest your hands and do something else on the project. Work to perfect your skills to use less.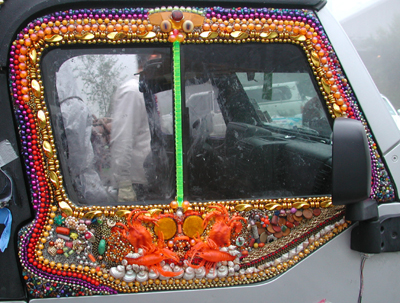 The above beading was done by myself, under the direction of David.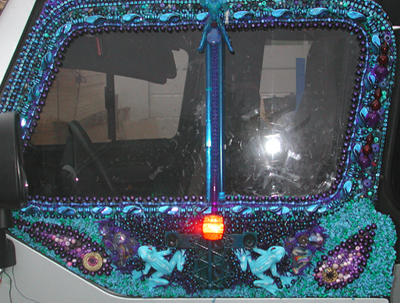 The beautiful blue beading was done by Jen, featured below, under the direction of David.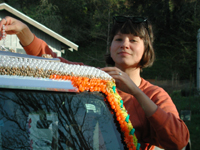 Many talented artists helped bring Gregory's Jeep to life.